After some talk about silver kettles, my dad pulled out an old silver teapot. It has previously been used a lot, but eventually just started to tarnish as it sat in storage over the years.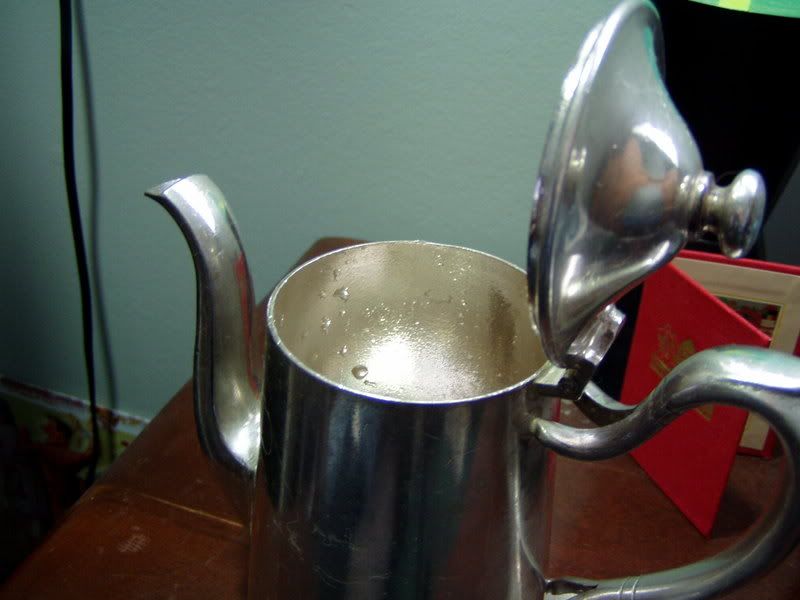 So, first tea to be brewed in silver will be guricha from Mellow Monk. If I'm not mistaken, silver will lose heat faster, so I think it will be more suitable for green tea.
The teapot is preheated and I threw the leaves in. A strong sweet green tea aroma filled the air immediately.
Fukamushi drinkers would be pleased with the color. Unlike fuka that will clear up when everything settles, it remains a cloudy green/yellow. The flavor starts out like just a sweet grassy green, but the flavor becomes crisper after swallowing. Possibly slightly roasted, grassy, and tangy/dried fruit.
I think I slightly overbrewed it because the grassy flavors were stronger than normal, but the result was still incredible. I'm not sure if it's completely because of the silver teapot just because I'm not that familiar with this tea. I'll have to brew it in a kyusu before I say that it was indeed the silver that made the difference.
Parameters: 1tbs/240ml and 80C water (with a preheat).